Starting into the new year is a good time to have a look at the European print production developments in 2021. For the full revenue data to trickle in we have to wait several months – even for the first countries to report. The full data on Eurostat might be even two years out as Eurostat just about managed to publish 2019 revenues now.
The next best thing is to look at the monthly production index data published by Eurostat. Data is now available until October 2021. The best fitting category in the database is "print and reproduction of media" – with print production making up the lions share in that category. The data is based on the average 2015 volumes as being 100 index points. Starting values in the 90s for 2019 shows that print production volumes already declined before the pandemic hit in early 2020.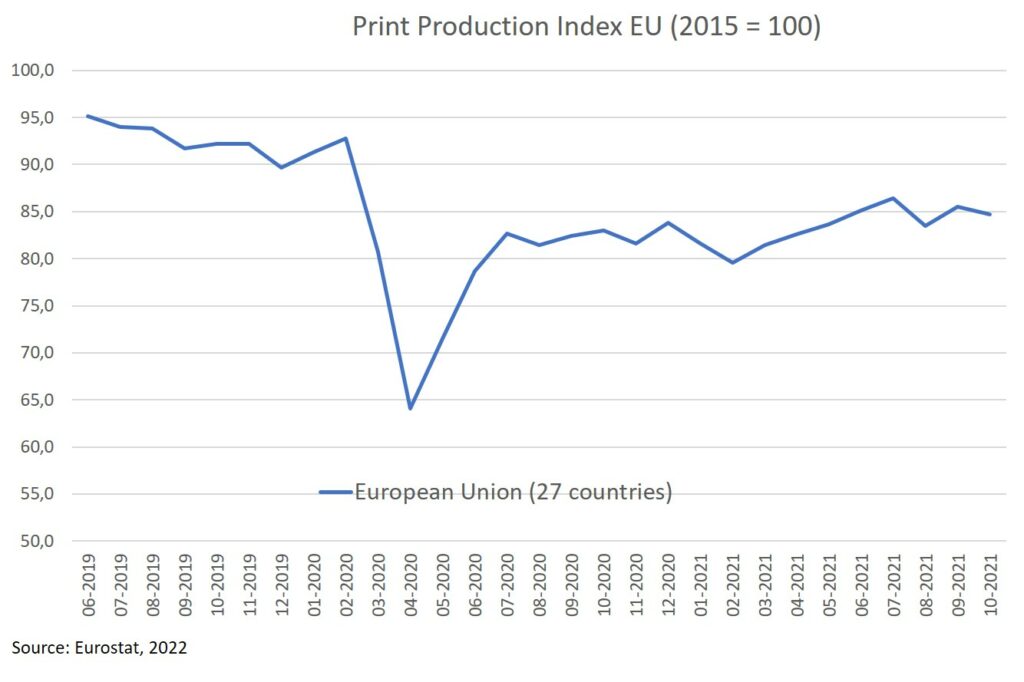 After the big shut-down drop (more than 30% compared to the pre-pandemic level) production volumes recovered somewhat. With the second and third wave hitting recovery stalled again, however. At the end of 2020 the production output hovered at about 10% below pre-pandemic values.
2021 was supposed to get closer to pre-pandemic levels. After a slump in February production levels started to rise nicely until July 2022 – with values being only 7% below the pre-pandemic average. The recovery did not last, however. August to October saw index values hovering around the 85 points mark, which is quite a bit lower than pre-pandemic levels. Paper shortages and logistics issues might play a role in this dampening, although it is likely that demand has not fully recovered either.
The European print production in 2021 did not live up to the expectations. Revenue data should look a bit better as mainly lower value applications suffered, while higher priced and value-add items should have done better. This blog will continue in 2022 and hopefully I can shed a light on what is driving the industry in 2022.