You might have heard of Booktok, even not being a regular (or at all) on Tiktok. Booktok is influencing the book market and the contributors are the modern book bloggers who reach millions of users with their short videos. The Booktok hashtag is now closing in on 200 billion views. Of course, it is unclear what portion of views ended up in real sales. The general consensus is that Booktok contributed to an uptick in book sales since 2021. Nielsen in the UK did some consumer research and found that the share of Booktok among all sales accounted for 3% of all book revenues in 2022.
Who and how Booktok is used is a bit better researched. According to one study in the UK, 38% of young people rely on Booktok for recommendations ahead of family and friends. At the same time, 68% said Booktok inspired them to read books they wouldn't have considered otherwise.
Importantly, the success on Tiktok is opening up a new type readership for books, which publishers already expected to have lost. It is a young, primarily female readership that even likes to buy printed books in bookshops. The attention is reshaping the demand for books. Romance, fantasy and young adult titles are benefitting. This is starting to attract dedicated lines of titles from publishers. The success even swayed Tiktok to have its own booth at the 2023 book fair, also introducing a "Tiktok book award".
It certainly influences book shops and book production already. There are Booktok book tables in many bookshops, where the currently popular books are presented and "as seen on Booktok" stickers are added to promote titles.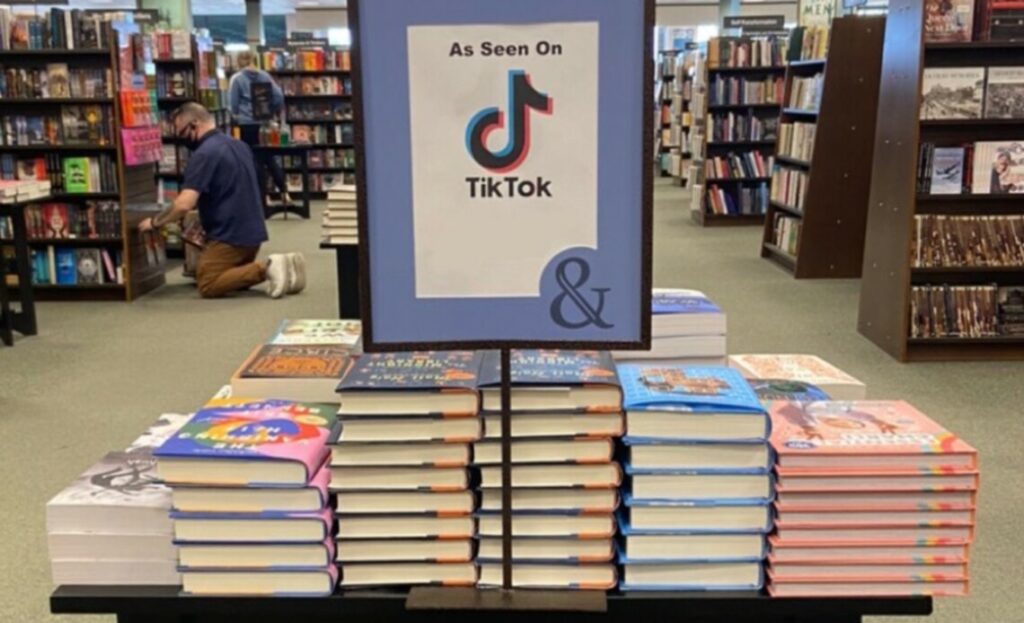 Booktok is also reshaping the look of the books. It is not only pushing pastel-coloured titles, also extravagant covers, relief print and illustrations in the book help getting books featured. Anything to make a title stand out visually is welcome, as the titles are presented in videos. This underscores the general interest in the tactile nature of print and the appreciation for the beauty of print. It might be that Booktok is not only influencing the book market but also the perception of print in general.