This week is Innovation Week at Inkjet Insight.
From the 14th of June to the 18th Inkjet Insight is hosting the 2021 virtual Inkjet Innovation Week to educate the industry on the latest inkjet technology coming to market across document, labels, packaging and industrial segments. Technology coverage includes presses, press components, software and finishing. Anchoring the event are a series of 60 minute, expert-led webinars during the week of June 14th. An additional 30 minutes has been reserved for Q&A and questions may also be sent to experts in advance.
The 5 days do focus on the following segments:
Web-fed document production
Sheet-fed document production
Packaging & labels
Industrial and bespoke systems
Inkjet workflow and efficiency (software and hardware)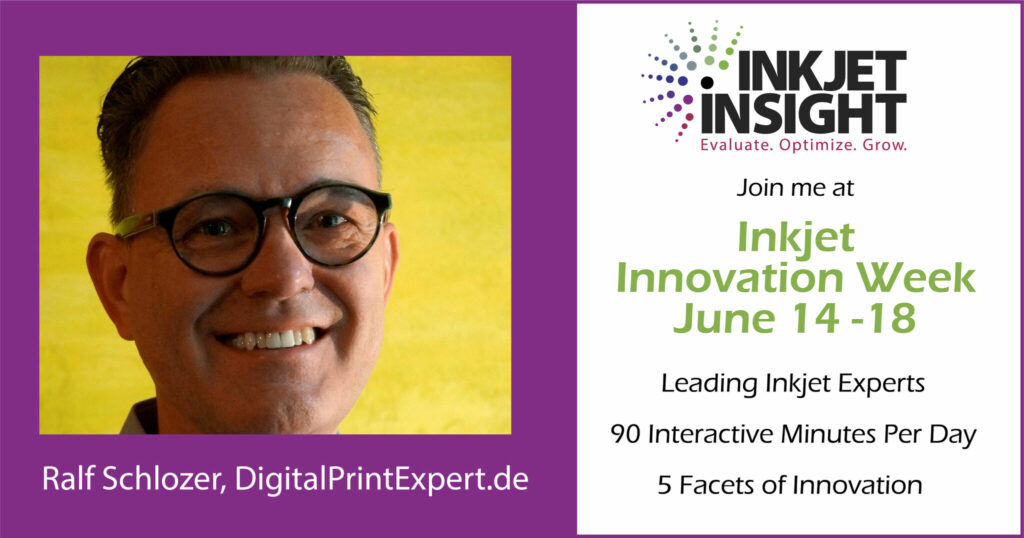 Together with Amy Machado from IDC and Elizabeth Gooding I will present on the second day on sheet-fed inkjet. We will cover market data, the latest launches, technology progress, where sheet-fed inkjet makes sense and what might come next.
Register here (for all 5) and join us.
If you missed the Inkjet Insight innovation week 2021, you can also get the presentations for download. Additionally you can contact me for further questions.