The German Federation of the Printing Industry (BVDM) is publishing a monthly overview of the current state and business outlook of the printing industry. November 2022 survey data has just been published and it shows that the printing industry seems to be finally pulling out of the depression that started in early 2022.
The survey data covers the current situation, a short term and a long term outlook. Especially the long term outlook for the next six months (Geschäftserwartungen – grey line) showed a strong recovery. Also, the short term outlook (Geschäftsklima – red line) had a 6% upswing, indicating that conditions already start to improve. On the current business situation (Geschäftslage – blue line) remains almost unchanged. All indicators remain in the negative, however.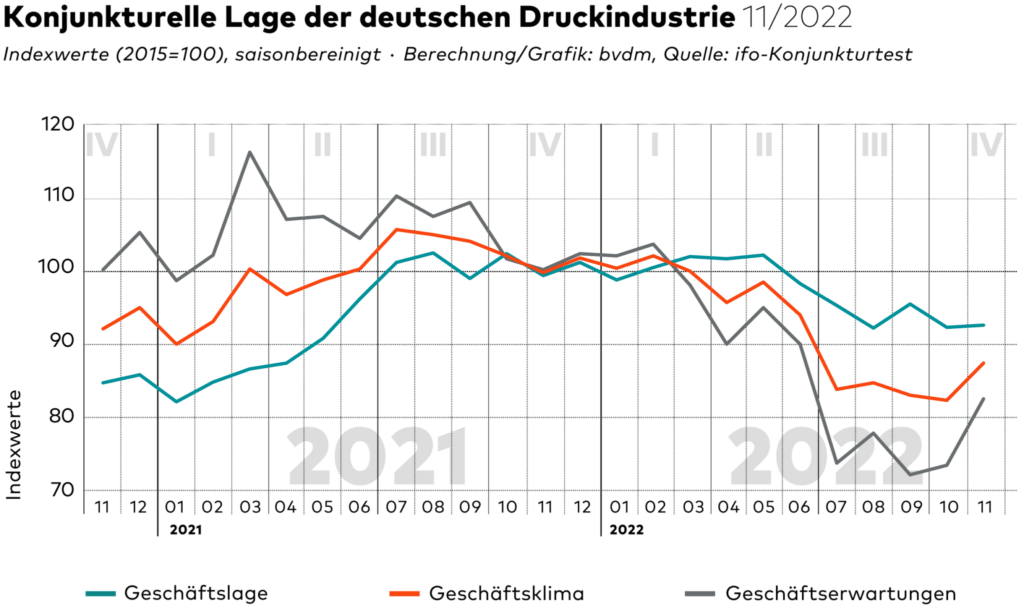 This is nevertheless good news for the printing industry. Skyrocketing energy prices, paper shortages and the war in the Ukraine pulled the indices down at a rate not seen since the first lockdown – at a point in time, the industry was already preparing for calmer seas. Finally, it seems that energy price rises and paper shortages are alleviating and printing companies got a better handle on making the best out of the situation as well – although those impediments are still responsible for the negative index values. It also seems that being able to rise prices for print products is improving the outlook, although companies reported lower than usual order backlogs as a result of price increases.
Nevertheless, the index data are a good sign that the printing industry in Germany is pulling out of the depression – or at least that the tide is turning. It conincides with an increase in sales in inkjet production printing equipment in the recent months. I will report on that in an upcoming article next week.