In many European countries door drops are a huge alternative to addressed direct mail. The DMA just published their 2021 Annual Door Drop Industry Report for the UK. It might not be a huge surprise that door drop volumes and revenues were dropping in 2020 – after all the pandemic forced many businesses to restrict activity and scale down marketing. Yet a 33.6% drop for 2020 is quite drastic.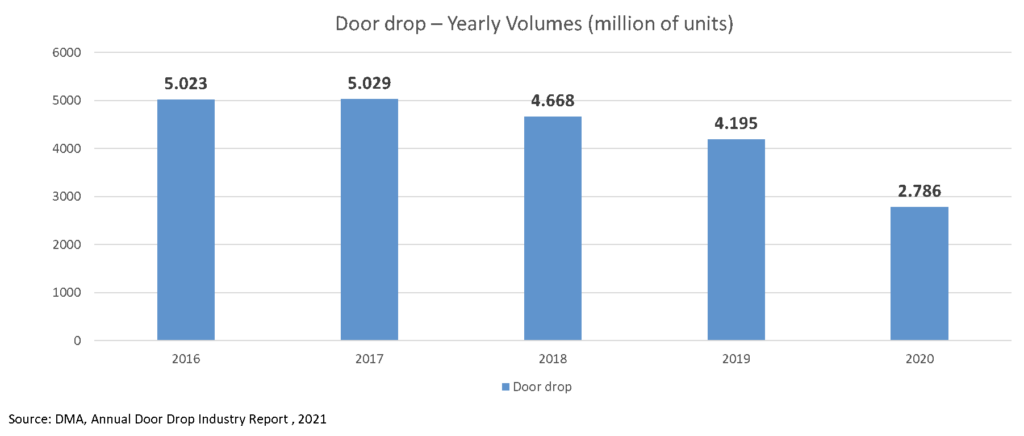 Initially mailings and catalogues were tipped to do well when consumers were forced to stay at home. However early on it was reported that volumes were down and the recently published German print revenue by application data shows similar trends. However, with -9.7% the decline in direct mail in Germany was a lot less pronounced.
It is not all doom and gloom however, as data from JICMAIL proved that recall and response rates were up during the pandemic. Almost two thirds of recipients look at door drops right away and 11% of door drops result in commercial action being taken. This stacks up quite favourably against other marketing channels and should help door drops once advertising spend is normalising again.
The DMC expects 2021 volumes to recover somewhat but with a national lockdown in the UK at the beginning of the year volumes will still remain low. There should be more recovery in 2022. Ultimately door drops will keep dropping however, as more targeted methods of addressing consumers (in print or electronic) have a higher potential of getting the right message to the right customer.