Today, the 14th of Jan, HP held a webinar on interior décor printing. I hoped to learn more about the market in general and HPs printing options for the different types of applications and maybe even some hot news. The webinar remained more general however, presenting designers, printers and futurists – and less of my beloved stats and technology.
Nevertheless, there were a few important things that stuck.
Covid offers new surfaces too print on
Home office means home improvement
Ease of use is important
Think international
I would like to give a little bit more detail on each of the points:
Covid offers new surfaces too print on. Battling the Covid pandemic means that we need to physically separate. Tools used are separator screens or visors in shops and counters. It could be partition walls in restaurants and cafes or dividers in shared working spaces. At the moment those remain blank and purely functional. But there are a lot of opportunities in improving them with décor printing: from making it more cheerful, add branding, to inserting health & safety & cleaning advice.
More surfaces could come up in the future like: separators in planes, trains and other public spaces or waiting line partitions. Everyone is a potential canvas for print.
Home office means home improvement. The more time you spend at home, the more you notice the things that could be a bit nicer or look a bit worn by now. Since the Covid-19 lockdowns demand for home improvement surged. It looks like working from home will stick for many even after we regain some normality. This is an ongoing opportunity for home improvement materials.
The other area to improve is using a professionally printed background for all these video calls we learned to love (or endure). Rightfully the comment from one viewer came up while not all presenters have a nicely printed background – when presenting for the printing industry. I do concur. In the past 9 months I have seen more attics, box rooms and spare children bedrooms than I ever wanted to. And no – the electronic background replacement feature wont do, if you do not want to sport a wobbly head at every minute movement.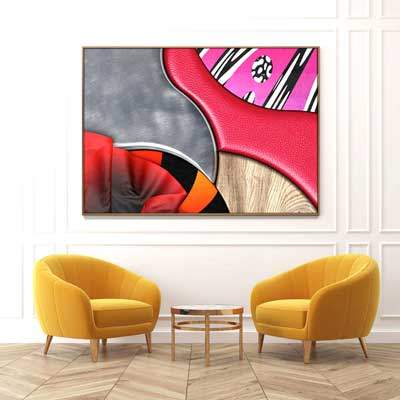 Ease of use is important. I liked the new product mentioned by Adeco Home (based in Kuwait) on posters/decors you can stick on the walls by spraying on water. Window cling films had a surge in recent years as well. The challenge for home improvement today is less in buying interior décor items (e.g. on the web) as in getting them up and looking nice by the dedicated members of your own household.
Ease of use means faster replacement as well – another opportunity for more print.
Think international. At the start of the presentation probably 15 different categories for printed home décor materials were enumerated. Now multiply that with all possible interior styles, different tiers of prices, choices of materials and so on. You end up with specific markets that are probably not very big in a given geography.
I tend to say that most print is local (national), but here it might be wiser to think about extending the geographic reach early on to get enough scale. It might be by shipping (but keep in mind that parcel chaos after Brexit), local dealers or even local print. The distribute and print idea came up in commercial print years ago and gained limited traction only – but interior décor printing with HP (or other suppliers) might be a reason to reconsider.