In times of generally declining magazine circulations, magazines for kids are doing well. This is according to a report in the Press Gazette. The Week Junior and First News in the UK have seen circulation increases and stable advertising revenues. First News has said order value is up 59% from its 62,000 a week circulation registered last year. For The Week Junior, a spin-off of the condensed news title for older audiences, circulation is up by more than a fifth to 85,000 copies a week. Especially during lock-down parents felt that kids needed to keep engaged and informed. Additionally, it served as an antidote against too much screen time. But it seems that this is not just a short-term effect. Surprisingly, customers are sticking with The Week Junior even though the publisher had anticipated a drop-off after a six-week trial period. This is proving that print is for kids not just in Covid times. Even advertising held up well. Ad spending reduced by companies closing or struggling during lockdown has been replaced by government funded educative ads.
During the pandemic up to now, children's book sales have been booming as well. The Washington Post reports, that as Covid restrictions increased sales of books for kids boomed through March. Three of the top 12 categories for book sales were aimed at children, according to data from NPD Group, a market research company that tracks book-buying trends. From March through May, as the pandemic kept schools closed, that trend increased dramatically, with half of the 12 top-selling categories catering to kids, including three categories of juvenile non-fiction. Through mid-August, the category with the biggest growth was juvenile non-fiction, up 28 % from last year, while juvenile fiction rose more than 8 %.
Similar is observed in Europe. The German book publisher's association states that July 2020 revenue from children and juvenile books increased by 7% over July 2019. Cumulative sales of children and juvenile books are 4.2% higher in 2020 than in 2019 despite the period of book shops closures – the only category of books scoring higher than in 2019.
Children's love for print is supported by research, like the recently published Children's Media Monitor 2020 in Germany. According to the research, 73% of children aged 4 to 13 read printed books, journals, magazines or comics several times per week. Print is the by far preferred media, while e-reading is insignificant. The report confirms that children's choices are influenced by their parents, who consider reading printed materials to be a meaningful activity that stimulates imagination and creativity. Although the share of kids reading regularly drops slightly with age, the overall portion remains high and is proving that print is appreciated by the kids.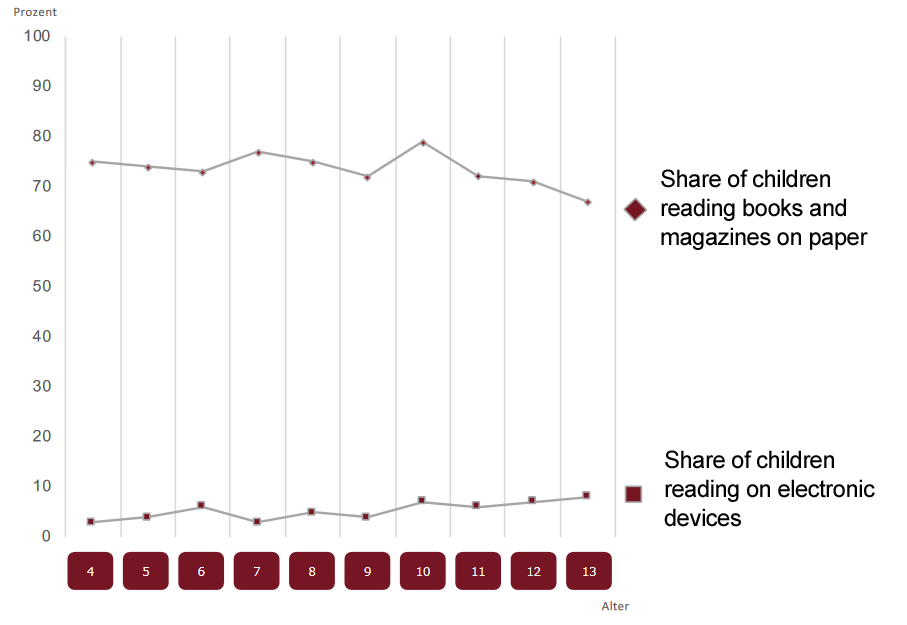 Finally, there is the success of the campaign Love Paper Creations, launched by paper promotion association Two Sides. It includes printable activity sets provided for free for kids' entertainment and education. The sets have been downloaded more than 5,000 times, which demonstrates the public's ongoing appreciation for print and especially for print used by kids.
Discussions on the changing media habits of each generation should consider that this is always a snapshot in time and the current situation of each generation needs to be factored in, like: family status, job, education and monetary situations, to name a few. These social factors influence the current media usage but do not remain static. There are phases when growing up in which reading and printed media take a back-seat. But extrapolating from media habits of younger age groups towards future use of media misses two points: media usage is age depended as is the social situation within an age group and many consumers have a deep affection for print.