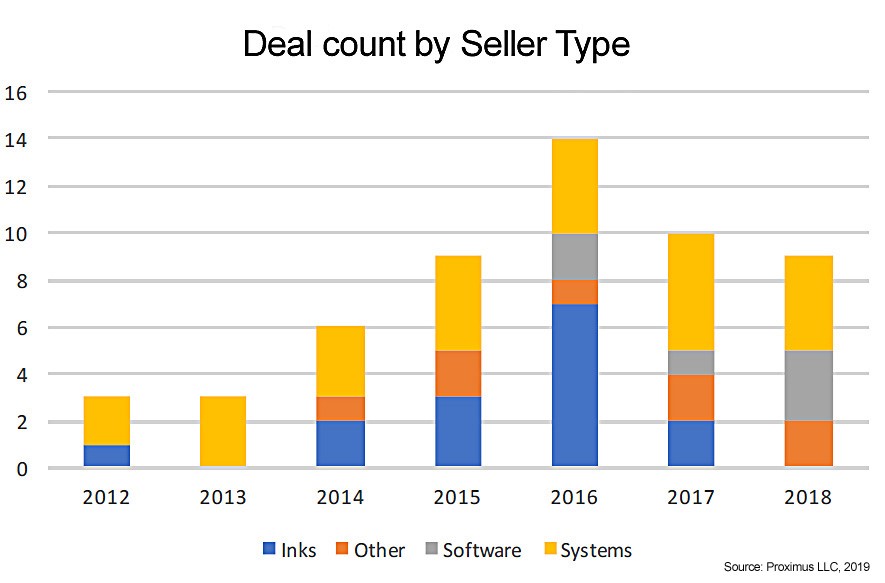 Last week IMI Europe hosted a mergers & acquisitions in inkjet forum on the day before the 2019 European digital printing conference. I have to admit that it has been a long time that I gained that much insight on trends that will shape our industry from a conference – although I am not even in danger of buying or selling a company any time soon.
Ken Stack from Proximus LLC led through the forum on drivers and market activity in mergers & acquisitions for production inkjet technology and related companies. Despite the negative assessments print is receiving sometimes, there is a healthy interest in production inkjet companies from various sectors such as public companies, private equity (PE) and increasingly private companies as well. There is no lack of funding capital either, especially in the era of zero interest rates. On the other hand, R&D in new technologies is pricey and protracted, with spending well above a hundred million US$ for a new inkjet head generation or press design. Hence even for established players acquisitions can make a lot of sense.
This is well reflected in the number of mergers & acquisitions in inkjet, which leaped up to a peak of 16 in the year 2016. The number of deals declined afterwards, mainly due to a lack of suitable target companies, rather than a lack of interest on the buyer side. There has been a noticeable shift in the type of companies acquired as well. As Ken Stack stated, 2016 was "the year of ink", with many players trying to broaden their base in the consumable business. Being able to better fine tune inks to inkjet heads, substrates and systems can help to optimize the print system, but the main driver is trying to get a bigger share of the recurring revenue stream. There is no slowing in interest in ink and ink components manufacturers since, there is a lack of acquisition targets however. Instead workflow companies are starting to move into the focus of acquisitions. Inkjet companies are realizing they need a better handle on workflow, especially in all the new verticals that are being targeted by inkjet outside of the graphic arts industry.
Moving forward a healthy appetite for companies active in textile, DTG and laminates markets is expected. These are seen as promising growth verticals with potential to consolidate and drive market share. Packaging would be probably at the top of the list, but a lack of targets is curbing the M&A activity here. Additionally, ink companies will remain in high demand and the interest in workflow remains strong, as there is a good number of software companies active with attractive market potential. Ink and software have the added benefit that these companies can be scaled easily in fast growing markets or to serve a larger company with diversified products.
There is one thing however curbing the enthusiasm of investors: There remains a distinct lack of start-ups in the industry. Start-ups tend to push the envelope, driving also the incumbents in a market to up the offerings. They also move into new market segments that have been underserved. My hope is that with some of the inkjet head and ink news presented at the IMI conference will serve as a jump board for start-ups.
Even if you are not buying or selling inkjet technology companies, it is very helpful to understand the drivers that will lead to M&A activities, where the money will flow and which possible paths will lie ahead for the companies buying and those acquired. The right mix of start-ups, investments, acquisition and consolidation in the different sector will keep print alive and secure the necessary funding for innovation.