Heidelberg today announced that the company is to cancel its participation in drupa 2021. After Bobst and Xerox the third printing industry heavyweight dropped out now. Industry experts will feel a déjà vu with the last days of IPEX in 2014, with almost all major exhibitors dropping out before the show – one after another. This sealed the fate of IPEX, the second largest print trade show at its time.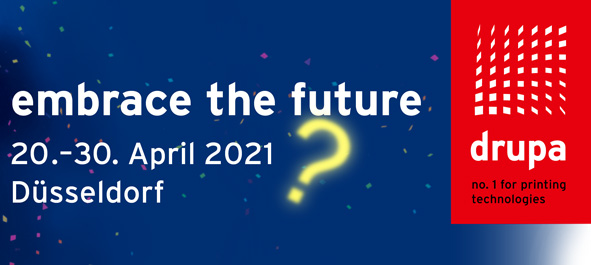 Heidelberg justifies the decision of not exhibiting at drupa with the shortening innovation cycles and emerging digital business models. Heidelberg plans to customize its activities in regional markets and segments as well. Plans are to replace trade shows with events at their Print Media Centers (5 globally) and virtual events. Heidelberg pulled out of trade shows in developed countries many years ago, citing they know all customers already and rather invite them to the open house event. As the only exception drupa remained, as "the trade show you need to exhibit to be taken seriously in the graphic arts industry" and as the show that sets the mark for trends and technology developments.
Of course, Heidelberg's decision has to be seen in the light of the drastic cost cutting measures announced early this year. Ditching whole product segments where the company is among the market leaders can only be the last resort if a company is close to (financial) death. CEO Rainer Hundsdörfer confirmed its commitment to digital print, but after exiting the Primefire business the highest profile product is missing (for a full coverage see the article on WTT.com). With the next level of "Push to Stop" on B1 presses already (virtually) launched this year and given the reduced R&D spend there would be probably little to show by Heidelberg next year.
Apart from Heidelberg to cancel drupa 2021 participation the decision not to exhibit at big trade shows has several pros and cons. I already posted a blog reasoning on the rationales given by Bobst for not exhibiting at drupa 2021. It is understandable that companies want to shun the cost of big trade shows and the environmental footprint for installing, operating and disassembling large equipment for a few days is huge. Many companies revamped their experience centers (the new word for showroom) as well and rather wine & dine their guests without fear of them straying to a competitor booth. This is especially true for large, established companies, which know all customers and prospects (at least in the developed countries). For smaller, newer companies or companies entering new markets this is more challenging. Trade press members will find it challenging as well, as trade shows allow visiting many technology providers in a short time, to compare products & approaches and to finally distil the most important technology trends.
However, I believe it is most important to hear the voice of users and prospects. Are experience centers and virtual events as effective as exhibiting at selected trade shows? I agree that Covid-19 is causing a special situation with nobody knowing yet how a crowded trade show can be organized efficiently. But in the same way as the return of physical trade shows is difficult to measure the return of virtual events is as well. It might be easier for open houses. But do potential buyers feel that virtual events and open houses can replace trade shows completely? Let me know here as a comment or at ralf@digitalprintexpert.de, especially if you are a print service provider.